WELCOME
       Welcome to St. Vincent dePaul Roman Catholic Church! We have been a beacon in Holiday, Florida for over 50 years. We welcome all people to our community and we have been called one of the most welcoming parishes around. Come see what this special group of Christians are all about!
MONTH AT A GLANCE
SAVE THE DATE
December 2-3, Arts & Crafts Sale, Come purchase crafts made by our own crafty people.
December 13, Christmas Lunch, Come enjoy dancing to the "Just Us Duo", have lunch and share your favorite cookies. Times to be announced.
December 17, Annual Christmas Party at Spartan Manor 6 p.m.—10 p.m.
MASS INTENTION BOOK 2023 IS NOW OPEN
You are now able to request Mass intentions for the 2023 Mass book. We still have openings in the 2022 Mass Intention Book so stop by the Parish Office.
YOU SHOP WE BENEFIT
Buy your "no activation fee" Gift cards and help support your parish. These cards can be used to purchase the items you use every day. Visa cards can be used to purchase gas and groceries. We receive between 2% - 15% for the cards you purchase, which helps support St. Vincent de Paul Church.
Samples of the offerings for the Gift Cards.
| | |
| --- | --- |
| ON –SITE | GIFT CARDS |
| Visa $50 | Amazon $25 |
| Lowe's $25 | Walmart/Sam's Club $25 |
| Target $25 | Cracker Barrel $10 |
| Wawa $25 | |
Click HERE (online) for full SVDP order form and FLYER.
SVDP Gift Card ORDERS are due at the parish office on June 6, 2022
GIFT CARDS are picked up Fridays from 10-noon (Parish Office) or Saturday or Sunday after Mass (Parish Gift Shop).
Gulf Coast Catholic Website

Dear Brothers and Sisters in Christ,
I am happy to inform you of a news website that is officially launched that is designed for you. The website is called GulfCoastCatholic.org and it will provide articles that help you to know, live and share the faith. All of us in Tampa Bay, the Suncoast and the Nature Coast are geographically connected by the waters of our coastline and spiritually connected by the waters of Baptism. Our logo is a visual reminder of these connections.
Whether it's stories about faith and family or news about our pope and our Church, GulfCoastCatholic.org will provide timely and relevant articles for staying up-to-date with Catholic life. We will also share stories about people who are Courageously Living the Gospel.
I encourage you to subscribe to our free, weekly e-newsletter, the Wednesday Wave. Then, you can stay informed and hopefully inspired.
Thank you for your faithfulness and may God bless you and all of your loved ones!
Bishop Gregory Parkes
Bishop of St. Petersburg
Parish News
Crowning
A few of the children who received their First Eucharist on, 5/1, were present for the May Crowning this past Sunday. We are blessed to honor our Lady in the month of May and every day.
Our Lady of the Most Blessed Sacrament, pray for us.
"Mary embraces God's will and freely chooses to cooperate with God's grace, thereby fulfilling a crucial role in God's plan of salvation."USCCB
Divine Mercy Sunday (4/24/2022)
Dear Brothers and Sisters in Christ,
Divine Mercy Sunday at St. Vincent de Paul, RCC was a glorious commemoration of God's unfathomable mercy. Father Dominic, SSS & Father Matteo Rizzo made the holy hour special. The Chaplet in song and the many who contributed to the celebration in the Social Hall blessed all in attendance. Father Bill had a prior obligation and was missed. Sharing quite a few photos of this special day.
During one of the adorations, Jesus promised St. Faustina: With souls that have recourse to My mercy and with those that glorify and proclaim My great mercy to others, I will deal according to My infinite mercy at the hour of their death (Diary, 379).
MASS TIMES
Daily : Mondays - Saturdays : 8:30 AM

Saturday Vigils :
4 PM
(English - Live Streamed Mass)
Sundays : 7:30 AM (English)
8:30 AM (Vietnamese)
10:00 AM (Family - English)
11:30 AM (English)
Adoration of the Blessed Sacrament
Mondays - Fridays : 9 AM - noon
First Fridays : 9 AM - 5 PM
Private Confession Times
Thursdays: 3:00-4:00 PM and 7:00-7:30 PM (in the Reconciliation room, behind the choir lot)
2022 Catholic Ministry Appeal
Catholic Ministry Appeal Prayer
More numerous than the stars in the sky are your blessings, O Good and Gracious God. You have called us to spread the Good News of your Son, Jesus Christ, through our words and actions. Strengthen our faith and open our hearts to care for all of our brothers and sisters, especially those who need us the most. Help us to understand the difference we can make, the love we can share and the lives we can bring to Christ through the Catholic Ministry Appeal. We pray that your grace, O Lord, will lead us to be your loving heart and hands today. Amen.
Catholic Ministry Appeal Numbers:
Appeal $62,346.00
Pledge Amount $77,822.00
Paid $66,979.50
By 244 of our 641 Families
EASTER JOY is expressed when we see the presence of Christ in the good works of charity. Your pledge to the Catholic Ministry Appeal makes all the difference.
Please click HERE to give online.
More Than a Name Change…Introducing the Catholic Ministry Appeal from Diocese of St. Petersburg on Vimeo.
OFFICE HOURS
PARISH OFFICE
09:00 AM - 2:00 PM
Monday- Friday
Closed Saturday, Sunday, and Holidays.

FAITH FORMATION
727-938-1974
10:00 AM to 2:00 PM Monday to Thursday
8:00 AM to 1:00 PM Sunday during Faith Formation
CLOSED FRIDAY-SATURDAY and HOLIDAYS
International Potluck Sunday 09/25/2022
COME BE FED
FIND THE LASTING PEACE THAT ONLY COMES FROM GOD.
Your Father in heaven wants you to come home, and so do we, your fellow members of Christ's body, the Church. The longing you have in your heart can be fulfilled through Jesus and his Catholic Church. You are not alone. Countless of your own brothers and sisters in Christ have returned home, have come back to Confession and to Mass, and have experienced the joy of a renewed relationship with the God who loves them and accepts them unconditionally. Now, you can too.
HOW CAN I FEEL WELCOMED IN THE CATHOLIC CHURCH AGAIN AFTER EXPERIENCING HURT AT THE HANDS OF PEOPLE IN THE CHURCH?
It can be difficult when we feel like our fellow Christians aren't acting very Christian toward us or toward others. The Church is indeed made up of sinful, imperfect people, who often disappoint. But rather than distancing yourself from the Holy Eucharist and the Catholic Church that Christ founded, consider clinging to Jesus all the more, since he never disappoints. It is helpful, in times of trial and hurt, to remember why you are Catholic—not because all Catholics always represent the mercy and love of Jesus perfectly well, but because the Catholic Church was founded by Jesus, administers the sacraments, and contains the fullness of Truth, helping all of us to draw closer to God and grow in holiness. Do not allow the actions of some to cause you to lose faith in the Church as a whole. Discuss your frustrations with a priest or deacon at your local parish, and start your journey back to a welcoming home. Above all, do not lose heart. People may disappoint, but God never leaves us, and He is always present in the Catholic Church he founded.
WHAT STEPS DO I TAKE TO COME BACK TO THE CATHOLIC CHURCH?
Recognize that your Heavenly Father yearns for you to come home to his Church. Then, go to Confession at your local parish and consider discussing any concerns or questions you may have about returning home with a priest. Begin going to Mass again and experiencing Christ's presence through worshipping in the liturgy. The Bible and the Catechism of the Catholic Church are also there to help you on your journey home, as are parish ministries like RCIA or a local returning Catholics group. Know that you are not alone, and do not be afraid to find answers to your questions, both here and through your local Catholic parish community.
If you need help finding Mass times near you, simply click the button below.
Do you have questions about the Catholic faith? Do you want to know more about what it means to be Catholic? We know that coming home might not be easy. We're here to help!
Click the button below if you have questions about coming home.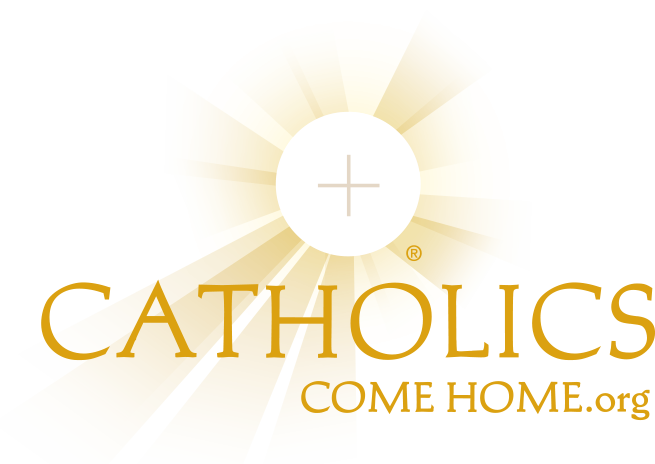 Please share this message with anyone you know who has been away from the Church. The Good Shepherd desires to be with all His sheep.
You can view more beautiful testimonies and help support the effort to invite Catholics back to Mass by visiting the website at the button below.
Keeping Faith Alive - Quarantine Survival Kit
Ways to create a church at home include:
Come to Church on Sundays as a family
Pray daily as a family
Read the Daily Mass readings together and discuss
Create a domestic shrine as a center of prayer
Stay connected to your parish via social media and other communication channels
Gather together for meals
Now, more than ever, our church needs us to keep the faith, our children included.
Father Farrell Hall Rental
Father Farrell Hall and our Media room are available for rent. We can accommodate large and small parties and offer catering from our own kitchen. We offer full facilities for any size group, large or small up to 300 people (Hall) or 55 (Media Room). We encourage you to come by and see if our Hall or Media room is right for your special event!
Available for any occasion large or small such as Wedding Receptions, Baptism Parties, Birthday Parties, Business Presentations, Dances, Vendor Fairs, and Craft Shows.
Catering is also available by our resident Chef, Mark Brose!
Our full service catering can accommodate buffet or sit-down dinners.
Call the office at 727-938-1974 for details and reserve a date.
Bishop Larkin Catholic School
The Bishop Larkin Catholic School's mission is to inspire students to be the best that they can be by spreading the word of God through their teachings and actions on a daily basis. Visit their website for more information!