WELCOME
       Welcome to St. Vincent dePaul Roman Catholic Church! We have been a beacon in Holiday, Florida for over 50 years. We welcome all people to our community and we have been called one of the most welcoming parishes around. Come see what this special group of Christians are all about!
SCRIP
Click HERE (online) for SVDP order form.
YEAR OF SAINT JOSEPH
St. Joseph - Devotion of Saint Peter Julian Eymard.
Be mindful of us, O Blessed Joseph and intercede for us with thy foster-Son by the pleading of prayer. Do thou in like manner render the Blessed Virgin Mary, thy spouse, gracious unto us, for she is the Mother of Him, who with the Father and the Holy Spirit lives and reigns world without end. Amen
Saint Peter Julian Eymard had one all-absorbing devotion, the Blessed Sacrament. His devotion to the foster-Father of Jesus, was strongly tinged with a Eucharistic character. First and foremost, he considered Saint Joseph as the perfect adorer of our Lord on earth. (Eymard Library, Vol 8, p. iii)
Saint Joseph, we can imagine you interacting playfully with the Child Jesus and saying "I adore you". In this way we can claim you as the perfect model of an adorer of the Eucharist. Teach us to come to Adoration mindful of the playful way Joseph interacted with his foster-son, Jesus. Dare we to imitate such playfulness? Amen
MAKE A HOUSE A HOME
Our Call to Community "Make a House a Home"
Finding affordable and available housing is not easy. If you see a house, mobile home or apartment with a FOR RENT sign on it send the contact information and address to Housing Locator- Kelly Miller-Funk at [email protected] If you have rental properties or know someone who does, please encourage them to support this effort. We also have Catholic Charities who will be helping to house additional individuals.
We have helped two individuals and a family so far. They are happy to be able to pick out items they like to make their house feel like their home. We have many items but are still in need of some specific things such as: Hammer and nails, foam to repair hole in wall, broom and dust pan, step ladder, cleaning supplies, rubber shelf liners, rake and gas cards. Our family could use 3 dressers and a small bookshelf for their daughter. Please call the office and we can make arrangements for you to drop off the items, particularly any of the items listed above as they are for specific families.
Please give a call to the office at 727-938-1974. Put your name and email or phone # on our "Helping Hands" list.Thank you in advance for your generous support of this project. If you are interested in being a liaison with one of these families or individuals, please let us know.
We appreciate all of the love and support you offer to those who are less fortunate in our community. It is a call to our Catholic Social Teaching. What ever you do for the least of my brothers and sisters, that you do for Me."
Click HERE to see the Essential List.
Parish News
Hanna & Andrew Wedding Photos
Dear Parish Family,
All of God's Blessings, Hanna and Andrew!
Wedding bells were ringing on
July 17, 2021 as Teresa Tran Nguyen married Dominic Huy Dang
Birthdays of Joan Milloy and Richard Quinton
After the 7:30 a.m. Mass today (06/27/2021) we had an opportunity to sing Happy Birthday to Joan Milloy and Richard Quinton. We are so blessed in our Church with so many beautiful sisters and brothers in Christ.
Joan Milloy has been serving our Social Justice/Respect Life Committee for years in defense of the Sanctity of LIFE. Rich Quiton is always available to offer assistance. He blesses the St. Vincent de Paul Society as their spiritual advisor leading them in prayer each Thursday before the food pantry, among the many other gifts he offers to our parish. Joan and Rich are both Associates of the Blessed Sacrament. We are grateful for you!
HAPPY AND BLESSED BIRTHDAY
39th anniversary to the priesthood of Father George Dunne, SSS (6/24/2021)
We were blessed this morning to have Father George Dunne, SSS preside at Mass for us on the occasion of his 39th anniversary to the priesthood.
Father George was ordained in Dublin, Ireland, on this Solemnity of the birth of Saint John the Baptist 39 years ago, his first Mass was the following day.
Father George is an incredible blessing to the priesthood of Jesus Christ and the Congregation of the blessed sacrament. Father Bill, SSS, our pastor, and Father George are brothers of the congregation for the past 40 years! Father George was also happy to have time with Father Dominic, SSS another brother in the Lord.
In his homily today, Father George spoke about choosing the birth of Saint John the Baptist for his ordination. Father realized very early on that his entire life needed to point to Jesus Christ our Savior, he is only to be a vessel of this grace for Jesus.
Father George wanted to share his anniversary Mass with his brother priests and the associates of the Blessed Sacrament here in Holiday. He will be returning to his home parish later today. We are grateful for this blessing!
Happy and Blessed Anniversary,
Father George Dunne!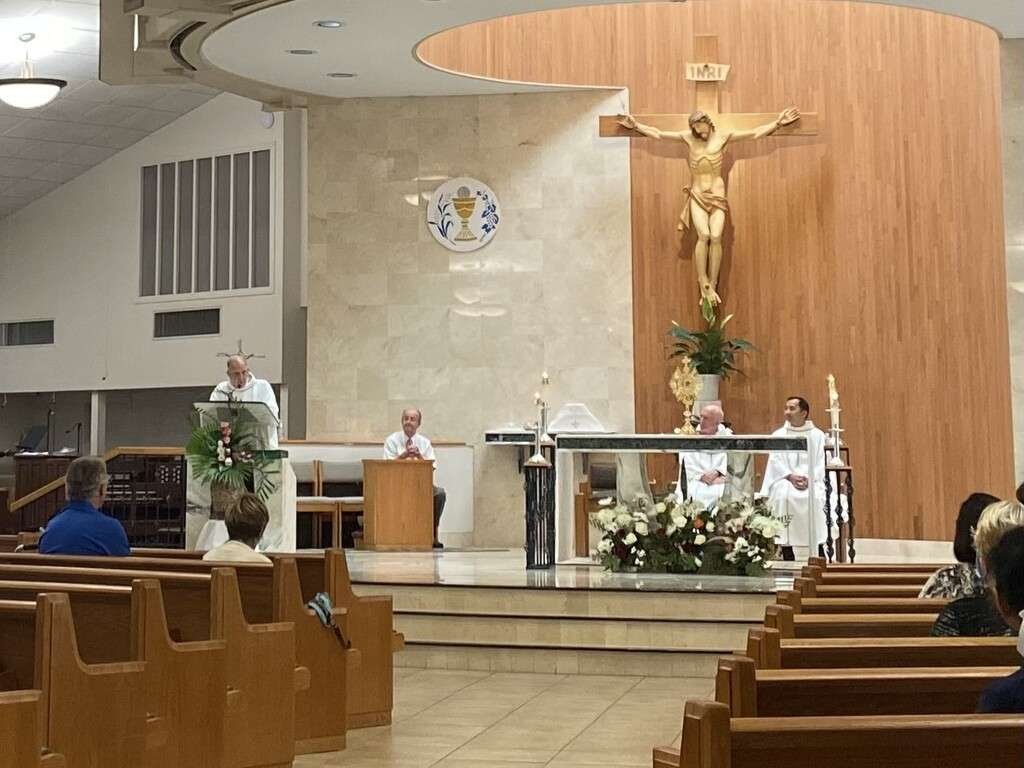 61th Anniversary of Ethel and Tony Lapitan (6/12/2021)
Happy and blessed anniversary to Ethel and Tony Lapitan, celebrating 61 years of the Sacrament of their marriage. Father Bill blessed Ethel and Tony at Mass this past Friday morning.
MASS TIMES
Daily : Monday - Saturday: 8:30 AM

Weekend : Saturday Vigil: 4 PM (Live Streamed Mass)
Sunday: 7:30 AM
8:30 AM (Vietnamese Mass)
10:00 AM (Family Mass)
11:30 AM
Adoration of the Blessed Sacrament (Summer Schedule)
Monday - Friday: 9 AM - noon
Private Confession Times
Thursdays: 3:00-4:00 PM and 7:00-7:30 PM (in the Reconciliation room, behind the choir lot)
2021 Annual Pastoral Appeal
Please click HERE to give online.
The Communications Office of the diocese has inspired our community to be United in Christ while separated because of quarantines and social distancing during 2020. Six communication workshops were held this year, DOSP social media platforms gained popularity and Holy Week liturgies with Bishop Parkes were livestreamed across all platforms.
We are a community of steadfast servants to the Gospel, coming together to grow in our faith, nurture our children with a love of God and progress toward the greater good. Every pledge helps those in need of services within our Diocese.
We can do this! With a few more donors joining the ranks, now is the time to add your pledge and help us to make our share needed by the diocese of $85,661. To reach this goal, support from every family helps. Thus far we have received $74,491 in pledges and $66,538.30 has been paid by 226 families.
Our summer attendance at Mass is at 550 people, that is counting women and children as the bible said at feeding the multitudes. We need 100 pledges at $150, or 50 pledges at $300 to make our obligation this year. Thank you for your pledge. Envelopes are at the church doors. Fill it out and drop in the basket. Thank you for doing your part and God Bless you.
OFFICE HOURS
PARISH OFFICE
09:00 AM - 2:00 PM
Monday- Friday
Closed Saturday, Sunday, and Holidays.

FAITH FORMATION
727-938-1974
10:00 AM to 2:00 PM Monday to Thursday
8:00 AM to 1:00 PM Sunday during Faith Formation
CLOSED FRIDAY-SATURDAY and HOLIDAYS
WELCOME BACK
Making our way back to Mass and
reception of Holy Communion.
Summer is underway and we are looking forward to see more people make their way back to church. This has been a long dry spell of waiting for it to be safe to gather.
People ask what is the proper protocol when returning to church. It seems prudent to encourage those attending Mass who desire to wear a mask and observe social distance to do so. We are aware that there are some unable to wear masks due to health or personal reasons. The number of cases are down with the vaccines for those attending Mass We will continue to be cautious and if needed wear masks and social distancing to keep those vulnerable protected from the virus.
Breaking Bread Hymnals will be kept at the doors of the church to be picked up when you arrive and replaced when you leave. Please do not leave the books in the pews. The 4:00 PM Mass will continue to be online for those at home. Please call the office if you like Holy Communion brought to your home. Confession is held on Thursdays at 3:00 to 4:00 and 7:00 to 7:30 pm or call the parish office for an appointment. Please notify the parish office if you are sick and would like to have the sacrament of Anointing of the Sick.
We like to hear from the pews your suggestion so please make us of the suggestion boxes at the doors or give us a call. Thank you for belonging to St. Vincent de Paul Catholic Church.
Fr. Bill Fickel,SSS.
Keeping Faith Alive - Quarantine Survival Kit
Ways to create a church at home include:
Come to Church on Sundays as a family
Pray daily as a family
Read the Daily Mass readings together and discuss
Create a domestic shrine as a center of prayer
Stay connected to your parish via social media and other communication channels
Gather together for meals
Now, more than ever, our church needs us to keep the faith, our children included.
Father Farrell Hall Rental
Father Farrell Hall and our Media room are available for rent. We can accommodate large and small parties and offer catering from our own kitchen. We offer full facilities for any size group, large or small up to 300 people (Hall) or 55 (Media Room). We encourage you to come by and see if our Hall or Media room is right for your special event!
Available for any occasion large or small such as Wedding Receptions, Baptism Parties, Birthday Parties, Business Presentations, Dances, Vendor Fairs, and Craft Shows.
Catering is also available by our resident Chef, Mark Brose!
Our full service catering can accommodate buffet or sit-down dinners.
Call the office at 727-938-1974 for details and reserve a date.
Bishop Larkin Catholic School
The Bishop Larkin Catholic School's mission is to inspire students to be the best that they can be by spreading the word of God through their teachings and actions on a daily basis. Visit their website for more information!