NEWS 2021
Blessing the newly installed Mosaic (09/26/2021)
 A joyful prayer of thanksgiving was offered in blessing the newly installed Mosaic of the fruitful vine and branches. The work was the creation of Janice Van Der Henst who from the beginning to completion encouraged many to be part of this message of invitation into our church.
     In the prayer of blessing Fr. Bill said, "Bless this dwelling place of life and love, for you alone assure the peace and strength, the care that covers all our differences. Let your Spirit dwell in us and open us to all who need our hospitality and care.
     This was the finial message Jesus spoke after the meal in the upper room before his betrayal. "I am the true vine, you are the branches. The one who abides in Me and I in you will bear much fruit, because without me you can do nothing. (v5). As the father loves me, so I also love you. Abide in My love. (v9).
     A Labor of Love! Saint Vincent de Paul invites all people to come and share life with us. It is the life and love of Jesus that lives here among us. In this time of the pandemic we experienced the requirement to close our doors to public worship. The church remained open for private prayer and our Food Bank to distribute food to people driving by. When permitted to reopen the church for public gathering while observing masks and social distancing we wanted to show a symbol of healing to all those returning. The idea was to create a mosaic made from many pieces of stones coming together as living stones of the church.  Each piece represents we who are many all contribute our gifts in building up the Body of Christ. This was an awesome undertaking for all who gave their time to bring it to completion. Grapes become wine, a gift of our lives to become the blood of Christ. May all be welcomed in our praise to the glory of God.
Arts & Crafts (09/13/2021)
    We met again this morning for another day of craft making.  
    We are so blessed to have such a dedicated and talented group of elves working together for a common goal.  We appreciate and thank every one of them for their hard work.

     Each session we open with our Crafters Prayer and I thought I would share that prayer with you in the hope that you might recite this prayer for us:
  "Our Father, we thank you for this time together to share in your work.  We ask you to bless our efforts. Please send your Holy Spirit to inspire us to make things that will inspire others.  Guide our hands as you guided the hands of Your Son, Jesus the Carpenter.  We ask this in His Holy Name and for His Glory.  Amen."
      Today's session was extra special since we had the opportunity to celebrate Jackie's 94th birthday with Bernadine's famous cheescake (baked in her honor), a surprise visit from Father Bill, and of course singing Happy Birthday to her.  We told her we look forward to celebrating with her again next year.  See photos below for all in attendance.

     ATTENTION:  New START time for Arts & Crafts continues from 9:30am to 11:30am.

Bernadine and Marilyn
Hanna & Andrew Wedding Photos
Dear Parish Family,
All of God's Blessings, Hanna and Andrew! 
Wedding bells were ringing on
July 17, 2021 as Teresa Tran Nguyen married Dominic Huy Dang
Birthdays of Joan Milloy and Richard Quinton
   After the 7:30 a.m. Mass today (06/27/2021) we had an opportunity to sing Happy Birthday to Joan Milloy and Richard Quinton. We are so blessed in our Church with so many beautiful sisters and brothers in Christ. 
   Joan Milloy has been serving our Social Justice/Respect Life Committee for years in defense of the Sanctity of LIFE. Rich Quiton is always available to offer assistance. He blesses the St. Vincent de Paul Society as their spiritual advisor leading them in prayer each Thursday before the food pantry, among the many other gifts he offers to our parish. Joan and Rich are both Associates of the Blessed Sacrament. We are grateful for you! 
     HAPPY AND BLESSED BIRTHDAY 
39th anniversary to the priesthood of Father George Dunne, SSS (6/24/2021)
We were blessed this morning to have Father George Dunne, SSS preside at Mass for us on the occasion of his 39th anniversary to the priesthood.
    Father George was ordained in Dublin, Ireland, on this Solemnity of the birth of Saint John the Baptist 39 years ago, his first Mass was the following day.
   Father George is an incredible blessing to the priesthood of Jesus Christ and the Congregation of the blessed sacrament. Father Bill, SSS, our pastor, and Father George are brothers of the congregation for the past 40 years! Father George was also happy to have time with Father Dominic, SSS another brother in the Lord.
   In his homily today, Father George spoke about choosing the birth of Saint John the Baptist for his ordination. Father realized very early on that his entire life needed to point to Jesus Christ our Savior, he is only to be a vessel of this grace for Jesus.
   Father George wanted to share his anniversary Mass with his brother priests and the associates of the Blessed Sacrament here in Holiday. He will be returning to his home parish later today. We are grateful for this blessing! 
    Happy and Blessed Anniversary, 
Father George Dunne!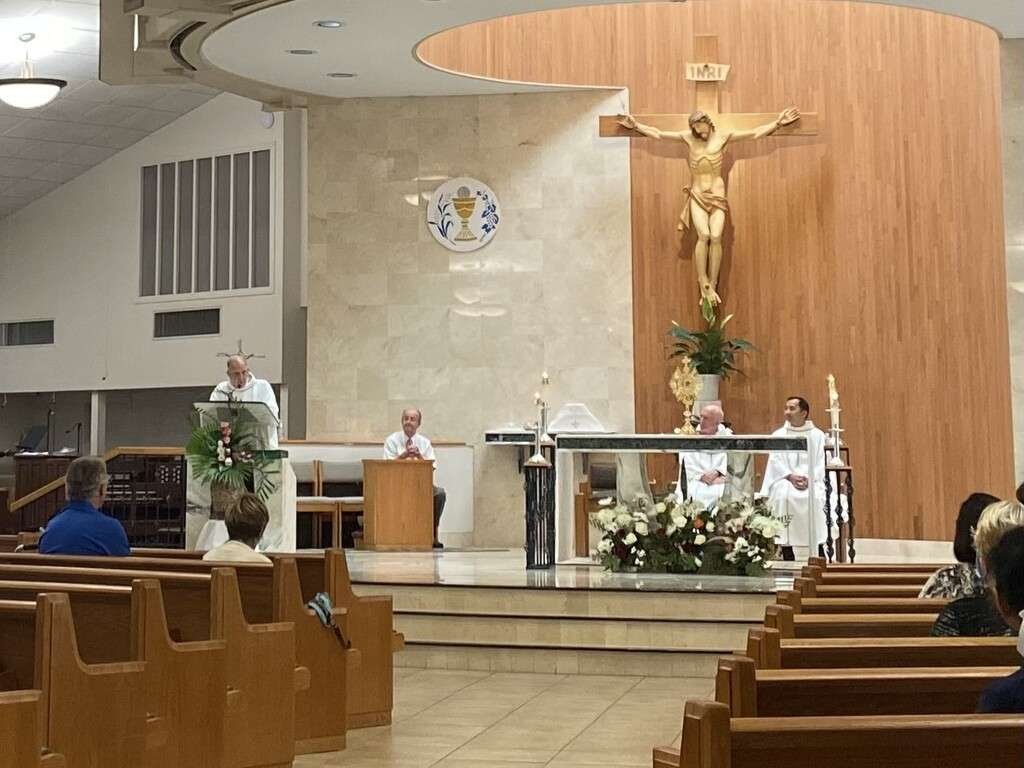 61th Anniversary of Ethel and Tony Lapitan (6/12/2021)
   Happy and blessed anniversary to Ethel and Tony Lapitan, celebrating 61 years of the Sacrament of their marriage.  Father Bill blessed Ethel and Tony at Mass this past Friday morning. 
Confirmation Photos
    Please continue to pray for the five young people of our parish who received the Sacrament of Confirmation last night. It was a blessed evening to have our priests in the sanctuary for this special occasion. 
     Father Bill, Father Joseph, and Father Dominic, as you can see in the photos, were filled with joy. It was a great privilege for our pastor, Father Bill, to administer the Sacrament of Confirmation to the Confirmandi. 
    Special thanks to our Faith Formation Director, Charlene Vassalli, for all of her work throughout the year to prepare for this day.
     Special thanks to the catechists,
Christine DeLieto and Margaret Flanders,
for the time and blessings, they have given the confirmandi. 
May Crowning Photos
     Dear Parish Family today (05/09/2021) after the 10:00 a.m. Mass Father Bill invited two of our children who made their first Holy Communion last week into the sanctuary. They followed father to the outside statue of Our Blessed Mother to Crown her on this special day. 
    Happy and blessed Mother's Day, Mother Mary, and all mothers. Father Bill reminded us, in his homily, that we are all sharers in the gift of life to birth into Holy Mother Church. Disciples, like the beloved Saint John to bring God's love to our world. 
Joyful photos, first holy Communion
     Dear Parish Family this morning (5/2/2021) at the 10:00 AM Mass the children of our parish who have prepared, received their first Holy Communion. It was a glorious celebration, surely Heaven is rejoicing.
Father Bill reminded us to remember our own first Eucharist. 
Welcome back photos
Dear Parish Family, Sharing some photos, it is a blessing to see so many beautiful faces at Church. If you are still home live streaming please know you are greatly missed. 
First Photo: Jeanne Jackson with her mother, Jacquelyn (Jackie) Vukmanic, Father Dominic, and Father Bill.
Nita Martell and Mary Brady
Joe Genalo, Rev. Matteo Rizzo, Peggy and Cloe Genalo, Raymond Worhacz in the background!
Altar Servers Awards (03/21/2021)
     How often do you take time to thank our altar servers for their ministry at Mass? Bishop Parkes signed certificates for all our servers. Special recognition of Altar Server of the year went to Catherine Bell and Malcom Nguyen. To all the youth in our parish, we thank you for the contribution you bring to the life of our parish. You have so much to offer.
Happy Easter.
Confirmation  
     This Easter holds a special event in the life those who have prepared to receive the sacrament of confirmation. This past Saturday on a day-long retreat, they spent time in prayer and reflection. We join our confirmandi in prayer—Dominic, Tony, Richie, Vy and Paige, as they request Bishop Parkes for the sacrament of Confirmation on Friday, May 7 at 7:00 pm. Holy Spirit fill their hearts with your love for our parish family.
The 210th anniversary of Saint Peter Julian Eymard's baptism
   Dearest parish family, I am sending a few photos from morning Mass today, 2/5. Today is a special day of remembrance for the Congregation of the Blessed Sacrament and Associates of the Blessed Sacrament. It is the 210th anniversary of Saint Peter Julian Eymard's baptism, also the feast of Saint Agatha. 
   Saint Peter Julian is the Spiritual father to the Congregation and Associates. St. Peter Julian held the day of his baptism in very high regard. Father Bill offered a beautiful homily this morning reflecting on his holy founder. St. Peter Julian knew of the gift of Eucharist, he would take Jesus whom he received and bring this manifestation of God's love through the abiding presence with him wherever the went. The glory of God would be found in its fullness when shared in this divine way. 
   Have a blessed first Friday, Laura
THE FEAST OF ST. BLAISE Feb. 3 - THROAT BLESSING
Sharing some photos from morning Mass, Feb. 3 2021.  We had a beautiful throat blessing in honor of Saint Blaise during the daily Liturgy today. 
Have a blessed day, Laura 
HAPPY BIRTHDAY CELEBRATION!
Dear Parish Family please offer a prayer for our wonderful music director, Francesco Sclafani, as he celebrates his 27th birthday today, 1/22. This is the first birthday since his father passed in October 2020. 
We remember, we celebrate, and we believe. God Bless you, Francesco, for all the gifts of song you share with us. 
Peace, love, and blessings from your parish family. 
HAPPY BIRTHDAY!